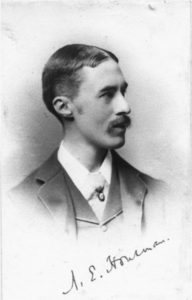 A. E. HOUSMAN, poet and pre-eminent classicist of his time, was born near Bromsgrove in Worcestershire in 1859. The eldest of seven children he entered Bromsgrove School at the age of eleven and, with a strong academic rounding there, won a scholarship to St John's College, Oxford in 1877.
After gaining First Class Honours in Classical Moderations, he failed his 'Greats', the Final School, in 1881 and so left Oxford without a degree. After a brief time teaching at his old school he returned to Oxford for a term to take a pass degree and the following year took up employment in the Patent Office in London, where his great friend from Oxford days, Moses Jackson, was working.
In 1892, on the strength of scholarly articles published in classical journals, Housman was appointed Professor of Latin at University College London. In 1896 his most famous book, A Shropshire Lad, was published and it has never been out of print since. The 63 spare nostalgic verses, born out of the troubles Housman suffered during his life, are set in a half-imaginary Shropshire, a 'land of lost content', and the heart-penetrating simplicity of its verse has given it an enduring popularity. Poem XL is typical of its mood:

Into my heart an air that kills
From yon far country blows:
What are those blue remembered hills,
What spires, what farms are those?
That is the land of lost content,
I see it shining plain,
The happy highways where I went
And cannot come again.
In 1911 Housman secured the coveted post of Kennedy Professor of Latin at Cambridge University and he moved to Trinity College, where he was to spend the rest of his life. In 1922 a long awaited second volume of verse, Last Poems, was published and after his death on 30th April 1936, his brother Laurence Housman, was responsible for the posthumous publication of More Poems and Additional Poems. His ashes were buried against the north wall of St Laurence's Church, Ludlow and a statue of him was erected in Bromsgrove High Street in 1985.